Elegance, Vitality, & Honesty: An Interview With Diane Detalle -Press

Elegance, vitality, and honesty mirror Diane Detalle's artwork. Her brilliant oeuvre is an intimate portrayal of momentary perception and insight. It is a real reflection of her psychology at the instant of committing body and soul to the canvas.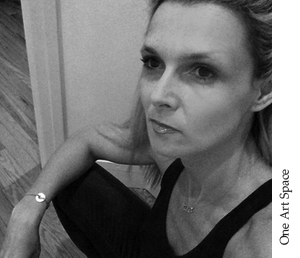 SAH: You grew up in France — how did you end up in New York?
DD: When I was 19 years old, my brother lived in New York and for Christmas my parents offered me a flight ticket from Nice, France to spend 10 days with him. It was love at first sight. I walked through the streets of NYC during its coldest days and I could not believe how magical it was.
The sense of unpredictability around New York was somewhat endearing to me.
From the incredible sunsets to the energy flowing around the city, I knew this is where I should be.
I flew back on the 31st of December and my Mum saw in my eyes that something shifted.
I told her: "If I could go back, I would hop on a plane in a second."
It was certain at that point that one day I will live in New York.
I spent 3 years in London working in the financial market and when I was 24 years old, I just jumped on a plane with zero plans of what I was going to do.
This was the 2nd of February 1999. My brother said to me "You are going on vacation basically" and I said "I will never come back" and true enough, I never did.
It was the best decision of my life to move to NYC. This is now my home where I gave birth to 3 New Yorkers and I am so proud of it.
SAH: What made you venture from working in the corporate sector to painting?
DD: I grew up with painting which my family casually did as a recreational interest.
So I ventured into it from time to time. I started to paint for fun in my first years in NYC as I lived in a place with a big white wall and no intention to buy art for it, so I created my own piece.
I had a thought that it would be a possibility that one day I could do my own show.
At that time, it seemed totally crazy and impossible. This was around 2001.
In 2003 I met my future husband and he came to NYC from London to visit me and saw the piece I created in my apartment. Ultimately, he is the one who pushed me to the trading floors and encouraged me to jump into the art world.
It was crazy and scary, and I had sleepless nights thinking how will anyone take me seriously as an artist? The hardest sale I ever made was to myself — to push me to take a chance in the art world. It took a while but now, Art is a part of me.
SAH: What kind of impact do you hope that your work has? Aside from the message, is it enough that your art just is beautiful?
DD: I want to open imaginations, I want to make viewers dream using movement with colors. I want them to see what they want, or maybe need. I want to make them feel magic.
I am a big dreamer however if you see me it might not seem that way instantly.
I would not have the life I made for myself if I did not follow my dreams.
SAH: Every artist or creative person has their own process. Where does the process begin for you?
The process begins in my head using my emotions. Lately, I had a lot of it — losing my Mum 3 years ago, my aunt last year and my brother in March.
What helps me to express them on a canvas is music.
I never know what song I'm going to play that day and sometimes it ends up being only one song on repeat. It is totally unpredictable. I never know precisely where I am heading.
It is like being in a meditative mode and you let the process and the energy come to you. A piece could go in so many directions in one day. I end up being the most surprised in the end. My studio is like my " Boudeoir" where I reflect and create.
SAH: What is more important for art, the idea or the execution?
DD: Both of course. My art is quite energetic and it takes a lot out of me when I paint.
My canvases are usually very big and I need to balance the painting.
So it starts with an idea and then execution takes over.
SAH: Do you remember the earliest memory of when you wanted to do what you do today?
DD: Yes! I must have been 10 years old in my bedroom in the South of France.
I had a beautiful view of the Mediterranean and the Alps which inspired me to paint.
I remember I was using oil paint that took weeks to dry, so I would leave it outside.
After a few days, maybe weeks, there was so much dust on it as it was drying. I decided to drop oil at that point. When I decided to venture again in making art I could not have been happier to find acrylic for my technique.
SAH: What is your main mode for selling original work?
DD: I host my own shows. I take over a gallery space, curate, and of course host it. Collectors in my experience love coming in a space where they could live a unique moment and contemplate the heart and hopefully fall in love with a piece they cannot take their eyes off of.
SAH: What advice would you give somebody who has just started their artistic career?
DD: As Andy Warhol said: "Don't think about making art, just get it done. Let everyone else decide if it's good or bad, whether they love it or hate it. While they are deciding, make even more art."
Never underestimate that the art world is a business; creativity is a magic part but it is a business and an expensive one, so keep your eyes on the business part