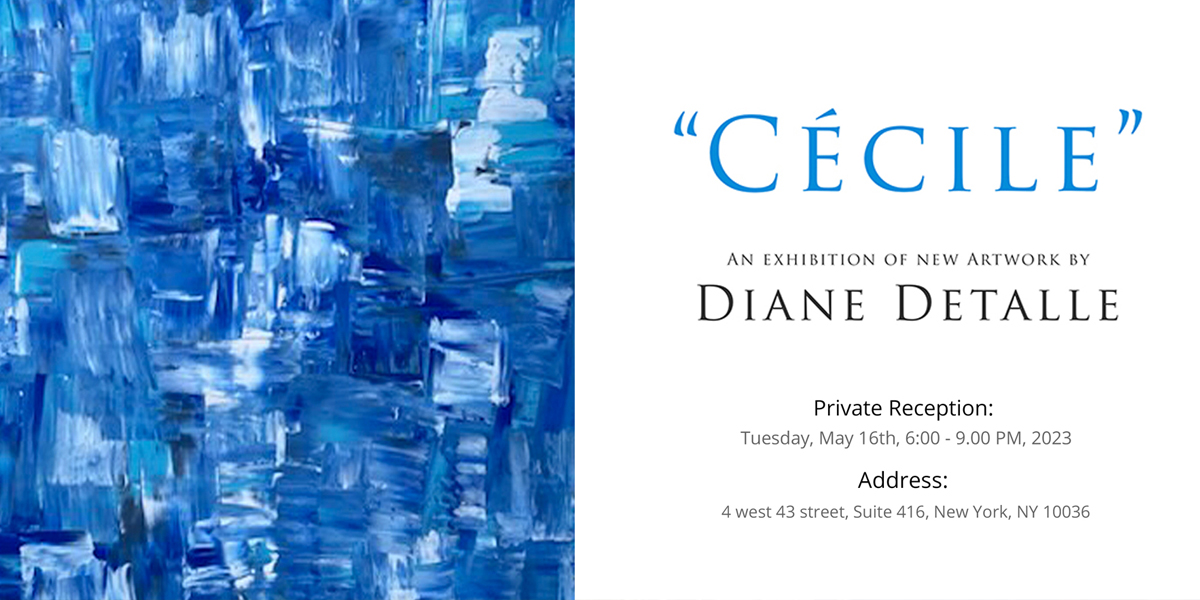 Private Reception: 
Tuesday, May 16th, 6:00 – 9.00 PM, 2023
Address: 
4 West 43 street, Suite 416, New York, NY 10036
Confirmation of attendance is kindly requested

After her childhood in the South of France, Cécile spent 10 years in Paris exploring her love for Mozart and German philosophers before moving to Berlin. There she enjoyed the blissful artistic life of the city that became her " Boudoir". With this exhibition, I hope to translate Cécile's infectious passion for music and literature to the canvas.
ABOUT THE ARTIST
Where am I going with this white piece of canvas? It's like writing a story without knowing the ending – it appears in front of you….' This fine balance between unpredictability and disciplined and focused self-control is at the core of Detalle's artistic process in the studio. She describes how each painting is inspired by 'emotional pressure'… her need to react to a psychological state or a process of spontaneously traveling through a sensation, sound, or vision. Canvases are laid out flat on the studio floor and the artist moves around them like a dancer, approaching from every angle, building the painting with layer upon layer of color and texture – '… it starts with an idea and then the execution takes over'.
Having experimented with dripping techniques in acrylic paint, often improvised in response to music, Detalle's recent paintings see her working with what she describes as her 'square mind'. Using a palette knife as her primary tool, she obsessively explores 45 degree angles, as well as parallels and diagonal lines. The paint is dropped onto the canvas from above, and then Detalle digs in with her knife and brush, finding the lines, perpetually in motion and flux like the city around her, often straining physically and imaginatively to reach the center. 'Nothing is one way', says Detalle firmly, of her creative philosophy.
Diane Detalle
Email: info@dianedetalle.com
Facebook: https://www.facebook.com/
Instagram: https://www.instagram.com/dianedetalleartist/